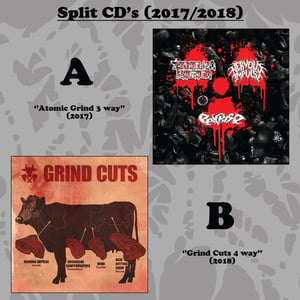 $

9.00
(One) 1 x Split CD / 9$ each
Please specify the letter according to the cd you want to buy.
Please note that orders outside Canada will be mailed without jewel case in order to save on shipping fees.
A - Atomic Grind 3 way (2017)
B - Grind Cuts (2018)
(A) Atomic Grind 3 Way Split CD Feat.
Rubufaso Mukufo (Cz.) / Nervous Impulse (Can.) / Epicrise (Ukr.)
Rubufaso Mukufo, featuring ex-members of the legendary Czech Grind band Cerebral Turbulency and Martin Bilos Bilek, Malignant Tumour's vocalist, provides some in your face grind savagery with songs from their ''Violent Show'' EP sessions, finally released on CD.
Nervous Impulse continues with their unique style of ''Brutal Death Grind Fury'' like a slap in the face with brand new songs that will blow your head off on this first split from a series to celebrate their 10th Anniversary.
Epicrise comes back after several years of silence with this collection of never officially released songs from the classic era of 2008/2010 including their ''Dead Sea'' EP. Grindcore die hard fans will be served.
(B) Grind Cuts 4 Way Split CD feat.
Nervous Impulse (Canada), Meat Cutting Floor (Russia), Japanische Kampförspiele (Germany) and Brud (Ukraine)
This 4-way split release is Part 2 in a 10th Anniversary gift to and from
Nervous Impulse, engineers of their own unique brand of insane death grind fury.
On this killer split, the quintet is partnered with Russian party grind masters Meat Cutting Floor and recently reunited Ukrainian outfit Brud, who are back from the dead with new energy and their best material yet. Marking their 20th anniversary, legendary German grindcore band Japanische Kampförspiele tie up this mind-shattering collaboration. For this occasion, they will release newly-recorded versions of old school tracks spanning their entire repertoire; six of which will appear on this release. Get ready for pure grind destruction!
***Please note that orders outside Canada will be mailed without jewel case in order to save on shipping fees***