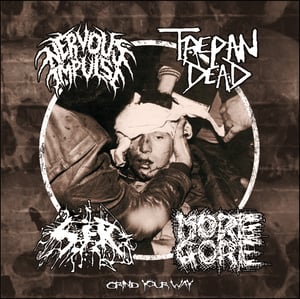 $

9.00
''Grind Your Way'' split CD
Nervous Impulse (Canada) / Trepan'Dead (France) / S.I.R. (Russia) / MoreGore (Ukraine)
23 Tracks of Unrelentless Death/Grind
Nervous Impulse is Back Faster Than Ever Providing Their Unique Blend of Insane Madness Fury.
Trepan'Dead Showing Their Supremacy One More Time With Striking Shots of Their Raging Instictive Grindcore.
S.I.R. Following their Path into Frenetic Crushing Grind From Technogenic Urban Pits.
MoreGore Closes This Festival of Aggression, Blasting Their Most Mature and Straight Forward Material to Date.